Remember way back when, people voted for what they wanted their city represented by on the new Monopoly board? Apparently, the people have spoken. Iirc, the picture for Pioneer Square had the Space Needle in it.
Edit: The picture is of a building with the top of the Smith Tower poking out behind it.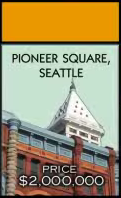 from the Puget Sound Business Journal:
Pioneer Square in downtown Seattle has replaced New York Avenue in the newest edition of Parker Brothers' classic board game Monopoly.

And players can now travel around the game as a Starbucks coffee mug or a laptop computer.

About 3 million people voted online to determine which landmarks from 22 cities would make it to Monopoly's "Here & Now" edition, which hits stores Thursday. The landmarks with the most votes earned the highest rent spaces on the board.

New York City's Times Square earned the coveted "Boardwalk" -- the most expensive property space. Boston's Fenway Park earned the "Park Place" spot.

Other landmarks that made it on the board include the White House, San Francisco's Golden Gate Bridge and Las Vegas Boulevard.

"We are thrilled that Pioneer Square has been incorporated into the new Monopoly game," said Katie Comer, manager of community development and marketing for the Pioneer Square Community Association, in a statement. Pioneer Square sits between the "Free Parking" spot and the Johnson Space Center in Houston on the new board.

The game also has newly appraised property values -- players landing on Times Square will pay $20 million rent, for example.